15 Nov 2023
SHOFU - X-FACTOR: BeautiBond X-treme, Beautifil Flow Plus X & Super-Snap X-Treme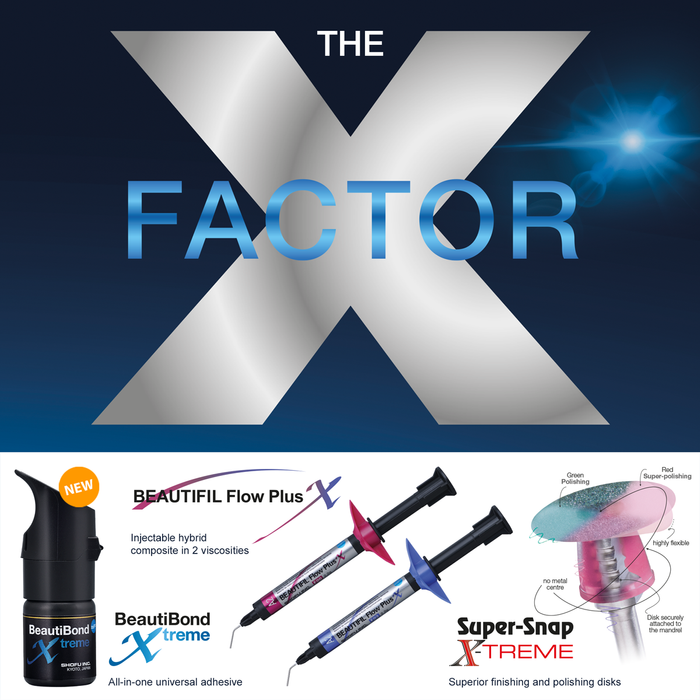 BeautiBond Xtreme indications –
Direct restorations with light-cured composite resin
Repair of fractured restorations with light-cured composite resin
Post cementation and core build-up
Cementation of indirect restorations with light-cured /dual-cured resin cement
Sealing of tooth preparation (cavity or abutment) for indirect restorations
BEAUTIFIL Flow Plus X indications –
Class I to V restorations including occlusal surfaces
Excellent handling and superior polishability
The S-PRG filler technology gives the composite specific features, such as the recharge and release of fluoride or acid neutralization
Super-Snap and Super-Snap X-Treme For microfilled and hybrid composites
The polishing system consists of well-matched coated disks used for finishing and polishing microfilled and hybrid composites.
Super-Snap X-Treme
The Super-Snap X-Treme disks – an enhancement of the original green and red Super-Snap disks – are thicker so that higher contact pressure can be used during polishing. They feature a longer service life, while also maintaining their well-known flexibility in interproximal areas.
The red Super-Snap X-Treme disks are the first instruments featuring an innovative 3D coating. Between the uniformly distributed semispherical structures made of alumina particles, debris is collected and removed. This reliably prevents the disk from clogging or secondary scratches caused by polishing dust.
Categories
Digital Dentistry
Handpieces & Rotary Instruments
Laboratory Equipment and Supplies
Minimally Invasive Dentistry
Restoratives, Bonding Agents, Finishing & Polishing Products