Oil-less Compressed Air Single and Multiple Surgery Systems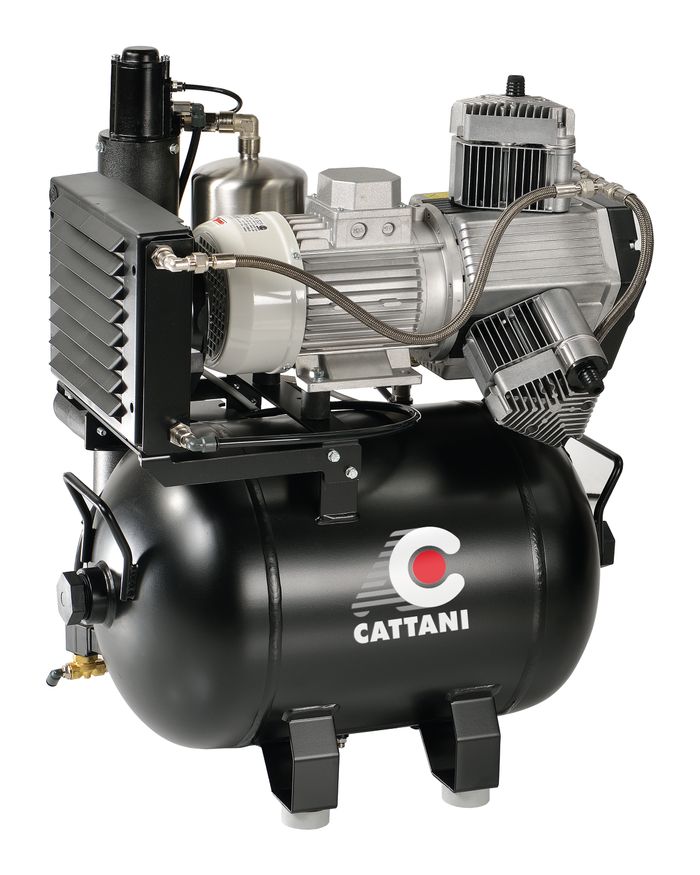 Cattani's range of compressors produce clean, dry, oil-less air, protecting the dental unit, rotary instruments, staff and patients alike in modern and demanding practices.
Cattani compressors deliver both high quality and reliability to the end user, our competitive prices mean you can get the system you need at the best price. All compressors are hand built and quality checked at every stage of production.
Our compressor receivers are coated internally with BioCote® Silver Ion Technology which delivers highly effective protection against microbes such as bacteria and mould. Permanent antimicrobial protection, Guaranteed. The exterior is coated with an electrostatic
paint.
Cattani use the simplest drying system which has a self-purging drying column, requiring minimum maintenance.
We have a full range of oil-less compressors, from single surgery to bespoke hospital systems.
Cattani also supply compressors for use with milling machines which
can run up to 10 bar.
All our compressors are available to purchase with sound reducing hoods, our AC100, AC200 and AC300 compressors can be fitted with a sound reducing cabinet which reduces noise levels to an impressive 52dB(A).
All Cattani Compressors are supplied with a 5 year warranty*.
An additional 2 year warranty* can now also be purchased, increasing the warranty from 5 to 7 years.
* Cattani compressors when correctly specified will deliver the minimum requirements of 50 Litres / minute per chair (at 5 bar pressure) when running simultaneously. Warranty is subject to T&Cs of servicing schedule, additional 2 year warranty must be purchased with the unit at point of sale.