07 Mar 2023
EauFlow - Dental RO, Deionizer and Softener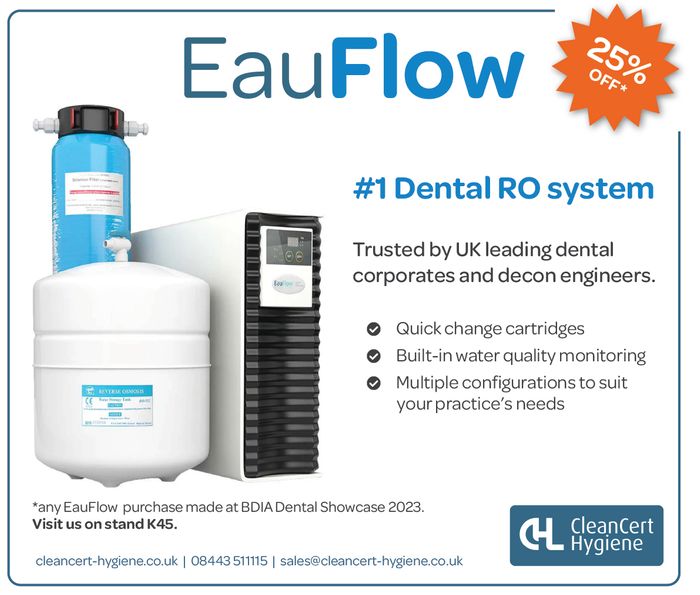 EauFlow system includes a multi-level filtration system and an innovative water quality meter that continually checks the water quality and alerts the user to any unacceptable variation.
The filters are attached with a bayonet system that is very simple to use, enabling any staff members to insert new filters within seconds to maintain full operating efficiency.
EauFlow is considerably less complex, easier to maintain and more reliable than distilling water and saves a significant amount of money and storage space from using bottled water, as well as not creating the plastic waste from the used bottles.
When used in conjunction with CleanCert, EauFlow provides a unique, fully comprehensive water purification system that delivers all your practices' water needs, whilst eradicating inorganic and organic water impurities in minutes.
Features:
Built-in display shows you both live water quality (Total Dissolved Solids) and alerts you when cartridges need changing.
'Quick release' bayonet connections allow clinical staff to carry out tool-free maintenance in seconds
Simple proprietary cleaning kit to remove any bacteria simply and quickly
Pump and storage tank ensures delivery of consistently pure water for your practice needs, especially when your mains water pressure falls, with a choice of storage tank for your specific needs
Simple monitoring of both organic (bacteria) and inorganic water issues
Technical spec:
System pressure: 25- 40 psi
Tank pressure: 7psi when empty and detached. 25-40psi when connected
Dispensing speed: 1.5 – 2L/min
Tank refill (average @350ppm): 120-140ml/min
Waste water (average @350ppm): 420- 600ml/min
A 5 stage RO water filter with easy maintenance 'quick release' cartridges, including ALL connection components, manual and warranty
Choice of dispensing valve, tap or trigger nozzle
10m of plastic tubing (1/4″/ 6.2mm)
Large 22L or standard 12L water capacity storage tank