Confident Smile Makeover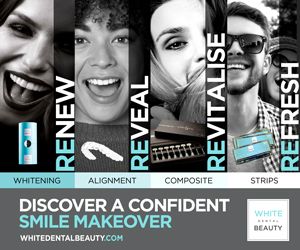 What is A Confident Smile Makeover?
The Confident Smile Makeover incorporates a clear aligner system, professional tooth whitening, and cosmetic bonding treatments to transform patients' smiles and confidence.
Reveal
Reveal your patient's smile with a crystal-clear, aesthetic aligner solution that is also manufactured for a precision fit to help ensure predictable treatment outcomes for a wide range of treatments.
Renew
Renew natural whiteness and go even whiter with WDB professional whitening treatments. Whether combating severe discolouration or striving for the perfect celebrity smile, whitening is a safe and cost effective solution.
Revitalise
Revitalise natural whiteness by adding CompoSite bonding to teeth to completely transform your patient's smile and confidence, resulting in natural, predictable, and beautiful results.
Refresh
Refresh your smile on the go in a quick and effortless way. These WDB professional whitening strips dissolve on your teeth in a number of minutes, leaving you mess free and minty fresh.
Categories
Orthodontics
Whitening Products