The award-winning 3M™ Imprint™ 4 VPS Impression Material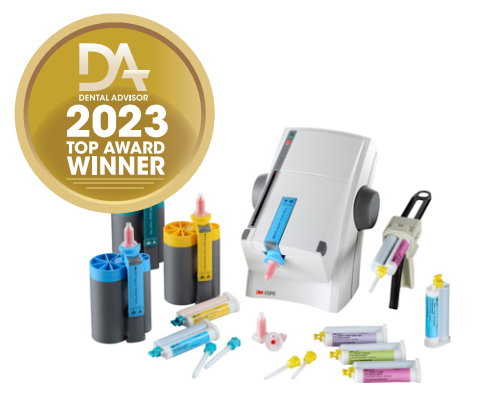 The award-winning 3M™ Imprint™ 4 VPS Impression Material
Shouldn't you always be allowed to expect speed, accuracy and precision from your impression material?
The 3M™ Imprint™ 4 Brand features innovative, clinically celebrated chemistry that helps deliver precise results every day.
Control - Enough working time
Due to the unique chemistry, the setting time doesn't start until the end of the working time. That means you'll have enough time to load and seat the tray, whether you use a 1-step or 2-step impressioning technique.
Speed - Less chair time
Less stress for patients! The shortest intra-oral setting time of 1:15 min among leading VPS fast-setting impression materials due to active self-warming technology. This speeds up the setting reaction which means shorter chair time.
Hydrophilicity for accurate detail
Imprint 4 material is hydrophilic and displaces moisture right from the start in the unset state. This allows the material to reproduce accurate details even in a moist environment—giving you ultimate precision and confidence.