Solution for Neck Position Problems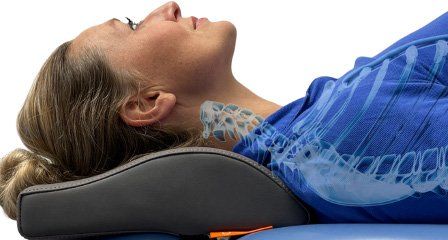 Toby Edwards-Lunn explains his solution for neck position problems in surgery.
When was the last time you sat in your own dental chair? Many of us use the chair only to rest our weary eyes for 40 winks, but have you sat in it for any length of time? If you haven't, you have not felt it the way your patients 'feel' it. Are you thinking about their experience in your hands? You do the best clinical work you can do for them but are you looking after the whole patient?
I have long suffered from dental anxiety which seems strange as a clinician but unfortunately I had a horrible experience as a youngster having second molars out at an early age and predictably this has affected my dental experiences from then on. I had a root treated premolar fail on me last year and had the offending tooth removed and replaced with an implant. Happily, the treatment has gone well, and I am extremely pleased with the outcome. However it allowed me to sit in the surgeons' chair and my chair to really 'feel' it for the first time.
The clinicians involved in my care knew about my anxiety and were brilliant. They looked after my mouth and my mind brilliantly and we got there. But I have to say the experience was uncomfortable. We both work in up to date very smart practices and we are lucky enough to always have the best kit. Our chairs are from brand leaders, but they were still uncomfortable. However much we fiddled with the headrest to get me in the right position for the clinical team - my position was not at ease. I was uncomfortable.
As clinicians know we must look after our backs, our necks and our overall posture. But isn't it our responsibility to look after our patients also? It was just after my treatment was complete that I came across what I genuinely believe is a game changing device - the Happynecks head rest.
About a year ago Happynecks, a very cool company set up by Peter and Jerry, produced one simple proposition: to help start every single treatment with a smile. They brought into being a simple, affordable product to solve just the problem I have outlined above. Peter and Jerry are not dentists but have backgrounds in marketing and physiotherapy, respectively. They realised that there was a missing link in patient comfort that had everything to do with the ergonomics of the neck positioning. In a recent survey they commissioned (of 157 clinicians from numerous countries) they discovered the following... 76.4% find the neck position to be a problem during longer appointments. And 96% of surveyed patients indicated that they would like to have a Happynecks headrest at the next treatment.
Make sure the chair's headrest gets locked in at 180°. The Happynecks headrest then compensates for all these positions.The unique shape supports the connection of the neck and upper back and thus offers maximum comfort and stability. This improves patients' positioning and well-being instantly, leaving the patient more comfortable and relaxed during longer, horizontal treatments.
SUSTAINABILITY
The Happynecks products are handmade sustainably in the Netherlands from the best quality materials. The products have been embraced by the dental community and are being sold in over 40 countries. Key opinion leaders have expressed their appreciation for the product, they use it in their day-to-day practice. Safe to say that Peter and Jerry discovered a true blindspot in dentistry.
We are now all using Happynecks in my practice. We have both adult and child models. They are a game changer for patient comfort. They have become the new normal for our patients. These patients are smiling more at the beginning of their sessions, not just afterwards. My patients will now never be without one and I do not think any patient should.