31 Mar 2023
BDIA Dental Showcase – Wrap & Rundown!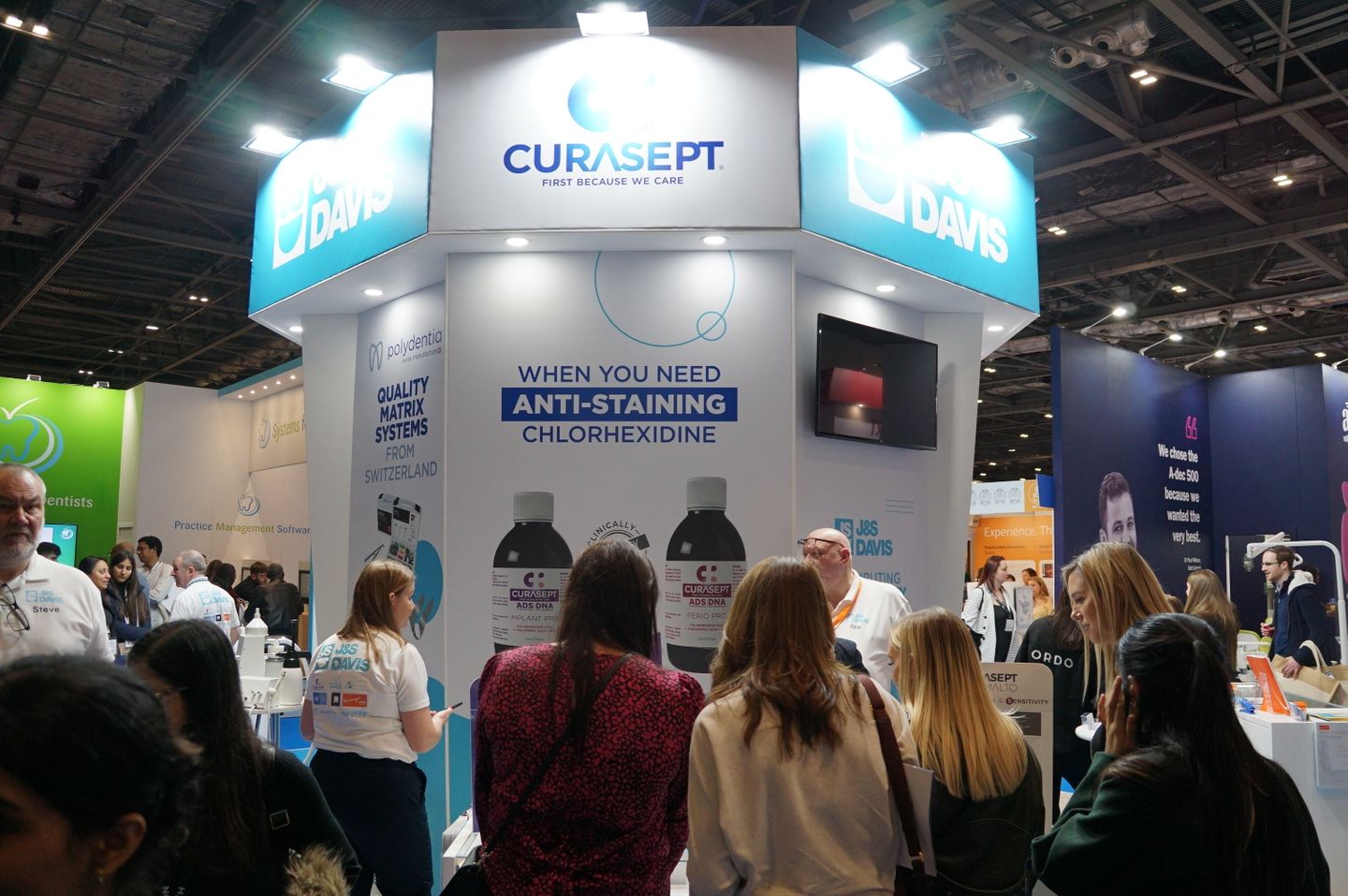 Dental Showcase 2023 took place at the ExCeL, London last Friday and Saturday. J&S Davis, stand C30 was a busy one. Here is what you need to know about the comings and goings on the stand.
Busiest stand brand – Curasept.
The Curasept section of the stand was definitely the busiest, closely followed by LM Instruments. In case you don't know – Curasept ADS is a range of anti-staining chlorhexidine mouthwash, toothpaste and gels. The anti-staining element is certainly the biggest selling point, with products specifically for daily or intensive use, as well as Perio and Implant patients – the latter also contain hyaluronic acid to promote healing. Delegates flooded the stand to find out more, place orders and of course, get their hands on the infamous Curasept 'spotty bags'.
Implant practices also placed sizeable orders for the Curasept Implant Kits, the perfect take home addition for a patient undergoing implant treatment.
Most orders placed – LM Instruments.
The LM section of the stand is always a popular one at trade shows. The rainbow of different coloured instruments draws in quite a crowd, a crowd that appreciate the ergonomics behind the instruments. On the stand was the ErgoStrength tester – which allowed delegates to try the LM ErgoSense handles in comparison with other handles instruments from different brands. Feedback from delegates was an overall preference towards the LM ErgoSense handles for comfort, grip and tactile sensitivity.
What is this? – Polydentia matrices.
Many delegates stopped to take a second look at the Polydentia matrices, in particular at the MyClip 2.0 and Unica Anterior. The Unica Anterior is the ONE solution for anterior restorations, so you can imagine it pulled in a reasonable amount of interest. The MyClip 2.0 is an all-one-in sectional matrix ring with short handles which act as forceps. Delegates were impressed by the quick and easy ability to single-handedly position a ring.
I'm looking for Panavia.
Are you even in dentistry if you haven't heard of, or used, Panavia? Panavia from Kuraray has a dedicated following. Those who started with the originals, moved on to F2.0, SA Cement Universal and then top dog, Panavia V5. Delegates visited to find out if there was anything new and the answer was yes! Panavia Veneer LC. A highly aesthetic, easy to handle Panavia, specifically for the cementation of veneers.
Wow – BPR Swiss.
BPR Swiss portable dental equipment is an interesting one. The versatility and high functionality of the equipment surprised passers-by when they realised just how practical and easy to use it was.. Many were also surprised to find that the Combi-Cart Clinic is a complete stand-alone unit with no need for installation, you just plug and play! The MiniMax-Vac in combination with the Denta-Pro is another gem – portable suction, and a highly efficient Scaler and Micromotor function all in one! The set is comparable to that of an in-surgery unit.
Let's take a closer look – Meisinger.
The Meisinger Bone Management kits, in particular the Master-Pin-Control and the Benex Control system, caught the attention of those passing, many of whom, had practiced with these kits on Bone Augmentation courses. And, let's not forget the Meisinger range of burs and rotary instruments, many customers were surprised by the quality and comprehensive range that Meisinger of rotary instruments that Meisinger offer!
J&S Davis would like to take this opportunity to thank everyone who visited the stand. It's always a pleasure to see friendly faces, old and new, in the industry.
Missed out on a Showcase offer? Don't worry! Offers are valid until 31st March 2023. Call J&S Davis on 01438 747344 or email jsdsales@js-davis.co.uk and a member of the team will let you know if there are any offers on products you are interested in.